80% of security incidents that leads to data leaked were caused by Advance Persistent Threat that exists at the endpoint level. Our Manage Endpoint Security solutions aim to help the organization in proactively securing their endpoint security parameters. Our team of highly security experts can help in hunting digital threats and mitigate risk at the endpoint level which can be the starting point for illegal intruders to seek and steal valuable digital information.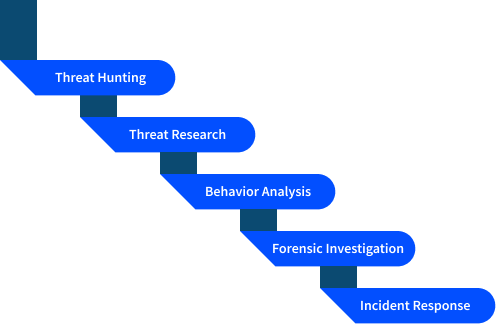 Manage Detection
and Response
Manage Detection and Response (MDR) aims to help corporations to hunt and eradicate malware and other types of APT's such as Ransomware at the endpoint level that will cause damage financially and reputation wise. With MDR, corporations can rest assure that malware detection in endpoints can be detected rapidly and effectively before causing harm. With a team of highly experts malware analyst and state of the art tools, we can help you in doing threat hunting at the endpoint level for Malware and other dangerous APT's. We will do it for you 24x7x365 days continuously.
If there's anything we can help you with, just let us know.
We'll be glad to help you.